Read 'The Room of Family Holidays' from Kobus Moolman's Glenna Luschei Prize-winning anthology
UKZN Press and Deep South Publishing have shared an excerpt from Kobus Moolman's poetry anthology A Book of Rooms, which was announced as the winner of the 2015 Glenna Luschei Prize for African Poetry this week.
The Glenna Luschei Prize is a pan-African poetry award worth $5 000 (about R84 000), overseen by the African Poetry Book Fund in partnership with the University of Nebraska-Lincoln's literary journal Prairie Schooner.
In her comments, Judge Gabeba Baderoon called A Book of Rooms "electric, visceral, brilliantly experimental, and profoundly moving".
Moolman was a guest of the Winter Warmer Festival in Cork, Ireland, last year, and his reading of "The Room of Family Holidays" is available to view on YouTube: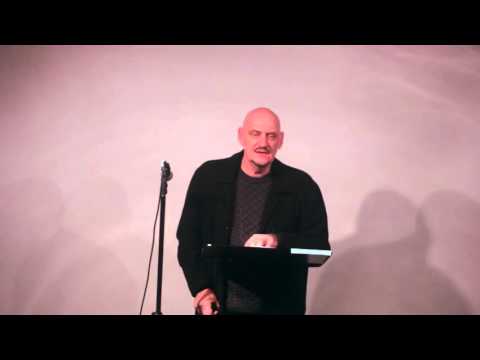 * * * * *
Read the poem:
The Room of Family Holidays
Bright sunlight. Fat smell of frying.

There is a long
window with thick metal burglar bars painted white The window
runs the length
of the room and looks out across the deep blue Indian ocean on
the south coast of
Natal It is a long narrow room with three single beds One bed is
perpendicular to the
room, in the middle, with its head against the back wall facing
the ocean (This bed is
reserved for his sister) A second bed is directly underneath the
window, and horizontal
to it, at the far end of the room The third bed is in the same
position but up against
the back wall The second bed is a source of continual dispute
between himself and
his brother Because both boys always want to sleep right by the
window so they can
be the first to see the ocean and to see the sun come up This
dispute is finally solved
by their father (with the help of his strap) who decides that they
must take turns to be
at the window on their annual Christmas holidays Although this
still does not prevent
them arguing over who slept there last and whose turn it is this
time About to go
into his final year at high school he feels that such squabbles are
below him, and he
magnanimously allows his brother access to the bed by the
window without any
argument, and with only a superior smile He feels that he is on
the brink of something
very significant in his life, something almost adult And though he
will perhaps feel
this same overwhelming power again For example when he buys
his first car, a 1982
white VW Jetta Mk1, or when he publishes his first – and only –
piece of writing, a
rhyming poem on Mother's Day in a consumer tabloid distributed
free from local Spar
supermarkets It will never be with the same absolute confidence
in his ability to get
what he wants And what he wants now is to find a way to talk to
the long-legged blonde
girl who stays in the big cottage at the top of the road, with its
own private access
to the beach via a long flight of steps made from old railway
sleepers And so he
doubles up on the arm and chest and leg exercises he does with
his expander springs
(the thick ones with the blue handles, not the red ones which are
too easy) Even
though his mother warns him not to strain himself And he swims
in the surf directly
in front of her house even at high tide (when his mother warns
him not to because of
his weak legs and the strong undertow) And he tans himself at
low tide on the flat
black rocks in full view of her pathway So that she has no choice
but to notice him
And when she smiles at him on the third day and says hello how
are you on the fourth
he knows with a certainty as firm as the black rocks that he is
chosen And that
he will always get what he wants Just by willing it And on the fifth
day she invites
him to her house and into her small bedroom (with a big blue
teddy bear on the bed)
and together they listen to a stretched tape of the Beatles'
Sergeant Pepper's Lonely
Hearts Club Band (I'd love to turn you on) And on New Year's Eve
they walk hand
in hand as the white sun sets behind them, along the beach to a
party on the wet sand
where he drinks Spook en Diesel (just like his father's policemen
friends) out of a
polystyrene cup and the blonde girl is asked to dance by an older
boy, a university student
he assumes, because of his long hair, who comes to the party in
a red beach buggy
with a surf board tied to the top, and who makes the girl laugh by
whispering something
in her ear And he (the boy with a hole in his heart, at the heart of
this story) feels everything
crumble and slide away beneath his small feet in their differently sized
orthopaedic boots
And he leaves without saying anything to the girl And stumbles
home along the cold
moonless beach He knows that if he goes home now his mother
will want to know
What's wrong? What happened? Are you alright? And she will
want to kiss it all
better (As she always does) But he is much too old for all of that
stuff now So he
hunches behind a dune smelling of damp vegetation and rotten
fish-bait and dog turds
and he sniffs his right hand repeatedly, the hand that held onto
hers (and smells of
coconut oil and Simba Puffs) and he licks it and puts it inside his
trousers and he waits
until it is midnight and the fire-crackers have died down and he
can open their back
door and creep into the sleeping house And in the morning his
mother spoils their
whole family by frying bacon and eggs for breakfast (sunny-side
up) with white toast
This is a special treat Just for holidays she says smiling at him
Because apart from
his father who eats mielie pap every morning for breakfast
everyone else always
has Pronutro, regular or chocolate flavoured, with milk and no
sugar And that is
that Finish en klaar That is the morning when he learns how
much easier it always is to pretend than to admit a painful truth.

* * * * *
Book details