Video: Jeff Opland and Pamela Maseko Read Poetry by William Wellington Gqoba and DLP Yali-Manisi
At the launch of William Wellington Gqoba: Isizwe esinembali: Xhosa histories and poetry (1873–1888) and DLP Yali-Manisi: Iimbali Zamanyange: Historical Poems, editors Jeff Opland and Pamela Maseko read some of the poets' work.
In his opening address at the launch event at Rhodes University, Opland stressed that Gqoba and Yali-Manisi, rather than Opland and Maseko, were the stars of the evening: "We are simply the midwives that have delivered their art."
Nadim Nyker wrote an article about the launch for Artbeat:
Intellectuals, black, yellow, white, pink and purple, some university educated, others earning their smarts through worldly experience, caroused and set the temperature as they awaited the launch of Jeff Opland and Pamela Maseko's new books. Opland is a man who has mastered the retrieval and representation of Xhosa literature and Maseko enhanced his vision with her overwhelming experience and skill in isiXhosa.
Artbeat has shared a video of Opland and Maseko at the launch: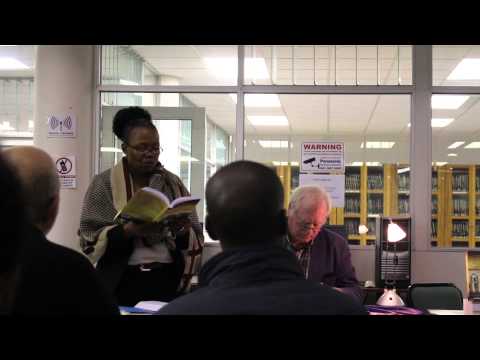 Book details