Tonight: Launch of A World of Their Own by Meghan Healy-Clancy at the Steve Biko Centre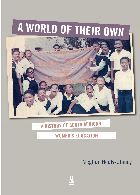 The Steve Biko Centre, in partnership with the University of Kwazulu Natal, is hosting a launch of Meghan Healy-Clancy's book A World of Their Own: A History of South African Women's Education.
The event is tonight and starts at 5:30 PM for 6 PM.
Don't miss it!
Event Details
Date: Tuesday, 16 July 2013
Time: 5:30 PM for 6:00 PM
Venue: The Steve Biko Centre,
The Steve Biko Centre Auditorium,
One Zotshie Street,
Ginsberg,
King William's Town,
Eastern Cape
RSVP: elliotts@ukzn.ac.za, 033 260 5226
Book Details