Read Meghan Healy-Clancy's Inanda Seminary Interview Transcripts for Her Study A World of Their Own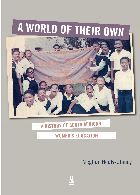 Meghan Healy-Clancy has made a study of the history of black South African women's education by focusing on the oldest high school for African girls, the Inanda Seminary, which has been in existence since 1869.
A World of Their Own: A History of South African Women's Education, the product of Healy-Clancy's research, drew on extensive archival and oral source. Transcripts of some of the interviews she conducted in order to write the book, have now been made available on eNanda Online.
Read the interviews with a former student Lindiwe Baloyi (née Gumede), a former teacher Thembekile Cybele Zondi, and a former Inanda choir director Darlene Woodburn:
Lindiwe "Sgubhu" Baloyi (nee Gumede)
Inanda Seminary student, 1960 – 1964
Interviewed in Westville, KwaZulu-Natal, 12 June 2010

So actually let's just begin by you giving me your name, when and where you were born.

My name is Lindiwe, maiden name is Gumede. Was married Baloyi and have since divorced. I was born on the fifth of April 1945, grew up in Inanda Mission. At that time it was called Inanda Mission. Brought up under a Christian environment. My grandfather was the minister of the Inanda Congregational Church.
Thembekile Cybele Zondi
Inanda teacher, 1954 – 1982
Interviewed in Inanda, 11 October 2008

How did you know of the job at Inanda?

Well, I was a student training as a teacher at Mariannhill. Miss Scott needed a home economics teacher, so she sent word to our principal, saying that she needs a teacher, so the principal talked to me. In fact, I wanted to go back to my school, where I did my matric. But the principal said I should train at Inanda Seminary because Inanda Seminary is an old institution, and I would need the teaching experience.
Darlene Woodburn
Inanda choir director, 1968 – 1973
Interviewed via phone from California, 30 June 2009

You came to Inanda in 1968. What were the motivations that inspired your family to come to Inanda?

My husband – Roger – was moderator of our church, a Congragational Church in Freedmont, California, and I was music director of our church, and we were sent as delegates to the general conference, and during we heard a missionary speak. I'd always been interested in missions, but never as, you know, thinking about becoming one myself. I mean, I was just always fascinated with the missionaries that came to the church I attended as a kid, but I never thought I would get into that.
Book details