Nthikeng Mohlele Tells the Story of a Dreamer in His Second Novel, Small Things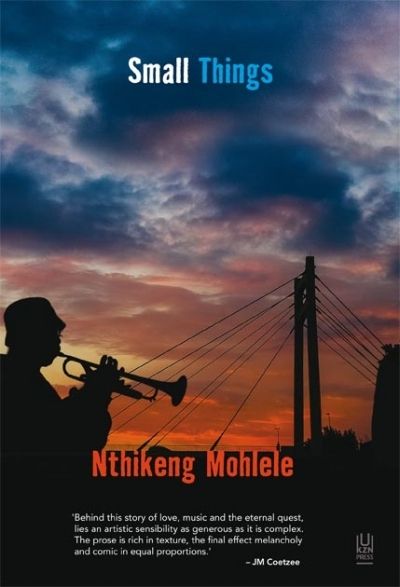 New from UKZN Press, Small Things by Nthikeng Mohlele:
This is the story of a dreamer, an average man, singled out by fate for an uncertain life. Jailed for 18 years under apartheid for unspecified sins, he emerges into a world that has no place for him. His fluctuating fortunes land him on the unpredictable, bitter-winter streets of Johannesburg, where 'harmlessness' is an 'unfortunate trait' but tempestuous skylines offer space to breathe.
A trumpet and an indigent dog are his accomplices in survival. But it is his obsessive love for the erratic, hardhearted Desiree that remains the one constant in his life and impels his search for the elusive meaning of existence.
Through his protagonist, the trumpet-playing philosopher poet, Mohlele weaves his unique magic with words, posing powerful questions in his inimitably individualistic and evocative style.
"Behind this story of love, music and the eternal quest, lies an artistic sensibility as generous as it is complex. The prose is rich in texture, the final effect melancholy and comic in equal proportions." — JM Coetzee
About the author
Nthikeng Mohlele lives and works in Johannesburg. His debut novel, The Scent of Bliss, was published in 2008 by Kwela Books.
Book details