Meet UKZN Press Authors at the Open Book Festival (21-25 September)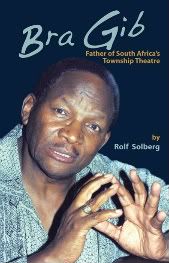 Catch UKZN Press authors, Thando Mgqolozana and Rolf Solberg, at the inaugural Open Book Festival this month. Mgqolozana will be in conversation with Lauren Beukes on Thursday, 24 September at 10 AM and Solberg will be launching his brand new book, Bra Gib: Father of South Africa's Township Theatre, on Friday, 25 September at 4 PM.
The Open Book Festival takes place from 21-25 September at various spots around Cape Town's CBD:
Saturday, 24 September:
THANDO MGQOLOZANA – A MAN WHO IS NOT A MAN
Time: 10:00 AM to 11:00 AM
Venue: The Fugard Studio
Cost: R30
Thando Mgqolozana, author of A Man Who is Not a Man, talks to Lauren Beukes
Time: 2:00 PM to 3:00 PM
Venue: Townhouse Mostert
Cost: R30
A panel of publishers talks to Mervyn Sloman about a wide range of topics related to publishing in SA. Featuring Jeremy Boraine (Jonathan Ball), Maggie Davey (Jacana), Nelleke de Jager (Kwela) and Debra Primo (UKZN Press).
Sunday, 25 September:
ROLF SOLBERG – LAUNCH OF BRA GIB
Time: 4:00 PM to 5:00 PM
Venue: Fugard Studio
Cost: R30
Rolf Solberg, author of Bra Gib, talks to Neo Muyanga about the life of Gibson Kente.
Book details